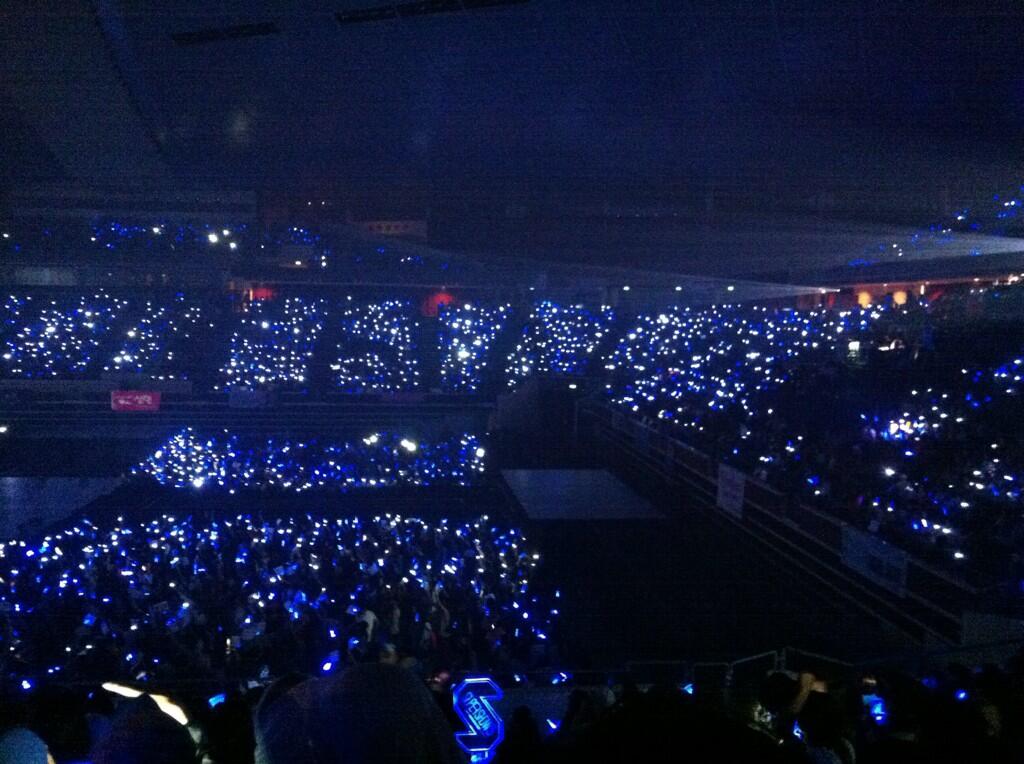 SS5 SG.
I don't know where to start, there's so many things I'll like to pen down, but I can't find it in me to begin. Perhaps if I never really began writing then I wouldn't need to deal with. To be honest, perhaps one will never be able to recapture the first fine careless rapture. It is inevitable for me to consistently compare SS5 to the previous SS3 and SS4 which I have attended. I told myself that as long as there were Super Shows in Singapore, I would always be there and for a series of reasons I was able to attend SS5 even though it wasn't premeditated in my plans. Anyway, perhaps SS5 SG happened at a wrong time-the boys were unhappy about the petition back home (ELF civil war, what's new guys),the organizing company's obnoxiously high ticket sales which had an adverse effect on audience participation, and many other factors. As much as I enjoyed the show, I couldn't shrug off the company's capitalist tendencies. I don't buy into the factor that SS5 cost a humongous amount to produce/manage. It was simply their way of milking the boys/kpop for all their worth. I mean seriously, teenagers still make up the bulk of Suju's fanbase. If you set the ticket price to be extravagantly high to the point that ordinary teenagers would have to empty all their pockets just for a night of enjoyment and conviviality, the trade offs and opportunity costs would be too much to handle. For that, I would have to say, Shame on you. It's contradictory though because if it wasn't for this company I wouldn't have the chance to go for SS5 too, but for all that has been said and done, I'm thankful, yet I cannot condone this.
it was lovely seeing the boys again no doubt. I wouldn't have to go into details unlike my two earlier concerts because after seeing them for a couple of times, they are more and more like my friends, boys next door-eque. I really appreciated every moment with them that night. Siwon was still the adoringly handsome shisus, Donghae was the same old kiddish boy with the eternally sweet smile,Eunhyuk was still the energetic and mood lifter him, Sungmin was still teasingly cute, Ryeowook was still precious and simply a bundle of happiness and joy, Kyuhyun was still the awkward and hardworking him, Shindong was still the ray of sunshine, Kangin was so smiley and witty throughout the entire concert Idk what to do with him, Henry and Zhou Mi were still their usual selfs, adorable, pleasing, friendly and heartwarming. Its as though nothing had changed, but perhaps if we stepped out of our roles as idols and fans, and reassess ourselves as citizens of the world, people of a different mould yet still members of the human race, it all boils down to one fact. We're still humans and individuals, with dreams and aspirations. No longer am I the girl who allows fantasies and dreams to be the complete makeup of my world,and I no longer live, waiting for the day to see Super Junior again. They are men now and have their own lives and dreams. There comes a point in time when you see things clearly and the images start to lose their burnished shimmer, the wonderful package starts to unravel and the seams at the ends start to quiver and loosen. Then you realize, its all part of growing up. I love SuperJunior and they will always have the ultimate special place in my heart. I cannot imagine who I'll be without them and for that, for many years to come I'll still yearn to see them. Many years from now, as long as they continue to hold acts in Singapore I'll gladfully be at the stage's end to hear them sing and make fools of one another and to laugh and cry all over again, simply because its this special bond between Super Junior and ELFs that makes life's tribulations a little easier.
Then we all go on.
Our identities go through bricolage. yesterday, today and tomorrow are phases we go through continuously and we are supported and propped up by memories that we've accumulated over the years and its impossible to view a person by whoever he was at a point in time. Similarly, even though we are merely performing our role/duty as an idol, a student, a son/daughter, a father/mother, we are all a mosaic of emotions and experiences and perhaps, understanding this furthers the point that whatever we experience in life is never negatory. Just like how Super Junior have impacted the lives of ELFs, ELFs similarly have affected their personalities and characters and even their lives, somehow. I'm getting a little philosophical here, and maybe a little emotional, but if I hadn't had such immense difficulty sifting through the tangles of memory and reality, perhaps I'll be able to do more justice to this post.
Yet I can never deny this. No matter how old I become, no matter how winding the road ahead will be, I will always love Super Junior.That is the most basic of promises I can make and keep. Till we meet again, Super Junior. You are always in my heart and as cliche as it sounds,you're part of me, for as long as I keep breathing.